Not to be confused with support characters (fighters that mainly aid teammates rather than doing damage themselves).
Support cards are cards that can be bought with Power Credits or Alliance Credits to increase the strength of characters. Support cards bought with Power Credits (also known as Support enhancements) give their bonuses (+10% health, damage, or energy generation, which is not to be confused with power generation) to all versions of the same character, while Alliance support cards give their bonuses (+3%~7% health or damage) to all characters. Some support cards increase experience gain or energy generation for all characters.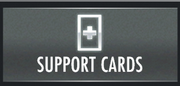 Support Cards can be bought with Power Credits and can also be randomly received through buying Bronze Booster Pack, Silver Booster Pack, Gold Booster Packs, and Challenge Booster Pack. In this case, the term "support cards" also includes Special Attack upgrade cards.
Support Cards can also be received by buying Early Access Packs, per the 2.8 update. 
List of all Support Cards
[
]
| Card | Character | Stat | Bonus | Cost |
| --- | --- | --- | --- | --- |
| Acrobat | Nightwing | Health | 10% | 3,000 |
| Alfred | Batman | Health | 10% | 9,000 |
| Altered Perception | The Flash | Health | 10% | 3,000 |
| Amazonian Origin | Wonder Woman | Energy regeneration | 10% | 10,000 |
| Anti-Life Equation | All characters | Energy regeneration | 5% | 50,000 |
| Arella | Raven | Health | 10% | 3,000 |
| Arkham Asylum | The Joker | Energy regeneration | 10% | 10,000 |
| Armies of Atlantis | Aquaman | Energy regeneration | 10% | 5,000 |
| Armor Plating | The Arkham Knight | Health | 10% | 3,000 |
| Armored Exoskeleton | Lex Luthor | Health | 10% | 3,000 |
| Azarath | Raven | Energy regeneration | 10% | 5,000 |
| Bag of Chocos | Martian Manhunter | Health | 10% | 3,000 |
| Batcave | Batman | Energy regeneration | 10% | 15,000 |
| Belt of Nth Metal | Hawkgirl | Energy regeneration | 10% | 5,000 |
| Big Barda | Darkseid | Damage | 10% | 4,000 |
| Birds of Prey | Batgirl | Energy regeneration | 10% | 5,000 |
| Bizarro | All characters | Energy regeneration | 2% | 10,000 |
| Black Canary | Green Arrow | Energy regeneration | 10% | 5k,000 |
| Black Manta | All characters | Health | 5% | 25 Alliance |
| Bladed Claws | Catwoman | Damage | 10% | 4,000 |
| Brainiac | All characters | Experience | 3% | 40,000 |
| Break The Bat | Bane | Damage | 10% | 8,000 |
| Circus Wrestler | Killer Croc | Energy regeneration | 10% | 15,000 |
| Contract Killer | Deathstroke | Energy regeneration | 10% | 5,000 |
| Daughter of Zeus | Wonder Woman | Health | 10% | 6,000 |
| Death of Superman | Doomsday | Damage | 10% | 8,000 |
| Doctor Fate | All characters | Experience | 3% | 40,000 |
| Drone Tank | The Arkham Knight | Damage | 10% | 4,000 |
| Enhanced Powersuit | Lex Luthor | Damage | 10% | 4,000 |
| Escrima Master | Nightwing | Damage | 10% | 4,000 |
| Fast Regeneration | Doomsday | Energy regeneration | 10% | 10,000 |
| Fortress of Solitude | Superman | Energy regeneration | 10% | 15,000 |
| Frieda Goren | Static | Health | 10% | 3,000 |
| Friendly Rivalry | Deadshot | Health | 10% | 9,000 |
| Gorilla Grodd | All characters | Experience | 2% | 20,000 |
| Granny Goodness | Darkseid | Health | 10% | 3,000 |
| Guardians | Green Lantern | Health | 10% | 3,000 |
| Hanzo Hasashi | Scorpion | Health | 10% | 3,000 |
| Hardware | Static | Damage | 10% | 4,000 |
| Harley's Mallet | Harley Quinn | Damage | 10% | 4,000 |
| Has Your Scent | Killer Croc | Damage | 10% | 12,000 |
| Hawkman | All characters | Health | 4% | 15 Alliance |
| Heavy Scales | Killer Croc | Health | 10% | 9,000 |
| Hook and Chain | Lobo | Damage | 10% | 4,000 |
| Ice Pack | Killer Frost | Damage | 10% | 8,000 |
| INJUSTICE | All characters | Experience | 5% | N/A |
| INJUSTICE 2.0 | All characters | Experience | 10% | N/A |
| Isis | Black Adam | Health | 10% | 6,000 |
| J'onn J'onnz | All characters | Energy regeneration | 3% | 20,000 |
| James Gordon | Batgirl | Health | 10% | 3,000 |
| Jebedian of Canaan | Shazam | Damage | 10% | 8,000 |
| JLA Watchtower | Martian Manhunter | Energy regeneration | 10% | 5,000 |
| Joker's Gang | The Joker | Health | 10% | 6,000 |
| Kahndaq | Black Adam | Energy regeneration | 10% | 10,000 |
| Kilowog | All characters | Health | 3% | 5 Alliance |
| Kryptonian Origin | Doomsday | Health | 10% | 6,000 |
| Lantern Corps | Green Lantern | Damage | 10% | 4,000 |
| Lashina | Darkseid | Energy regeneration | 10% | 5,000 |
| Laughing Gas | The Joker | Damage | 10% | 8,000 |
| Lexcorp | Lex Luthor | Energy regeneration | 10% | 5,000 |
| Lightning Quick | The Flash | Damage | 10% | 4,000 |
| Lois Lane | Superman | Health | 10% | 9,000 |
| Lor-Zod | Zod | Energy regeneration | 10% | 15,000 |
| Mars, the Red Planet | Martian Manhunter | Damage | 10% | 4,000 |
| Master of Weapons | Ares | Energy regeneration | 10% | 10,000 |
| Mindwipe | Zatanna | Energy regeneration | 10% | 10,000 |
| Molybdenum Limbs | Cyborg | Health | 10% | 3,000 |
| Morningstar | Hawkgirl | Damage | 10% | 4,000 |
| Mr. J | Harley Quinn | Energy regeneration | 10% | 5,000 |
| Natas | Green Arrow | Health | 10% | 3,000 |
| Neron's Bargain | Killer Frost | Energy regeneration | 10% | 10,000 |
| Netherrealm | Scorpion | Energy regeneration | 10% | 5,000 |
| Non | Zod | Health | 10% | 9,000 |
| Nth Metal Armor | Hawkgirl | Health | 10% | 3,000 |
| Oracle | Batman | Damage | 10% | 12,000 |
| Parallax | All characters | Health | 6% | 35 Alliance |
| Personal Arsenal | Deathstroke | Damage | 10% | 4,000 |
| Poison Ivy | Harley Quinn | Health | 10% | 3,000 |
| Poseidon's Trident | Aquaman | Damage | 10% | 4,000 |
| Power Battery | Green Lantern | Energy regeneration | 10% | 5,000 |
| Promethium Armor | Deathstroke | Health | 10% | 3,000 |
| Ra's Al Ghul | All characters | Experience | 5% | 100,000 |
| Ravager | All characters | Damage | 4% | 20 Alliance |
| Re-animation | Solomon Grundy | Energy regeneration | 10% | 5,000 |
| Red Hood | The Arkham Knight | Energy regeneration | 10% | 5,000 |
| Rick Stone | Static | Energy regeneration | 10% | 5,000 |
| Rock of Eternity | Shazam | Energy regeneration | 10% | 10,000 |
| S.T.A.R. Labs | Cyborg | Energy regeneration | 10% | 5,000 |
| Scary Boyfriend | Catwoman | Health | 10% | 3,000 |
| Sensei Dragoncat | Batgirl | Damage | 10% | 4,000 |
| Shadowy Mentor | Nightwing | Energy regeneration | 10% | 5,000 |
| Shazam | Black Adam | Damage | 10% | 8,000 |
| Shirai Ryu Clan | Scorpion | Damage | 10% | 4,000 |
| Sinestro Corps | Sinestro | Health | 10% | 3,000 |
| Son of Hera | Ares | Health | 10% | 6,000 |
| Son of Krypton | Superman | Damage | 10% | 12,000 |
| Son of Zeus | Ares | Damage | 10% | 8,000 |
| Space Dolphins | Lobo | Energy regeneration | 10% | 5,000 |
| Space Hog | Lobo | Health | 10% | 3,000 |
| Speed Force | The Flash | Energy regeneration | 10% | 5,000 |
| Starfire | All characters | Damage | 5% | 30 Alliance |
| Steal From The Rich | Catwoman | Energy regeneration | 10% | 5,000 |
| Strength of Demeter | Wonder Woman | Damage | 10% | 8,000 |
| Suicide Squad | Deadshot | Energy regeneration | 10% | 15,000 |
| Swamp Origin | Solomon Grundy | Health | 10% | 3,000 |
| Swamp Thing | All characters | Health | 7% | 45 Alliance |
| Talia al Ghul | All characters | Damage | 6% | 40 Alliance |
| Targeting System | Cyborg | Damage | 10% | 4,000 |
| Tawny | Shazam | Health | 10% | 6,000 |
| The Riddler | All characters | Experience | 2% | 20,000 |
| The Spectre | All characters | Damage | 7% | 50 Alliance |
| Thermafrost Accident | Killer Frost | Health | 10% | 6,000 |
| Throne of Atlantis | Aquaman | Health | 10% | 3,000 |
| Tim Drake | All characters | Damage | 3% | 10 Alliance |
| Timothy Hunter | Zatanna | Damage | 10% | 8,000 |
| Trick Arrows | Green Arrow | Damage | 10% | 4,000 |
| Trigon | Raven | Damage | 10% | 4,000 |
| Uncanny Marksmanship | Deadshot | Damage | 10% | 12,000 |
| Undead Strength | Solomon Grundy | Damage | 10% | 4,000 |
| Ursa | Zod | Damage | 10% | 12,000 |
| Venom Formula | Bane | Energy regeneration | 10% | 10,000 |
| Venom Overdose | Bane | Health | 10% | 6,000 |
| Yellow Power Battery | Sinestro | Energy regeneration | 10% | 5,000 |
| Yellow Power Ring | Sinestro | Damage | 10% | 4,000 |
| Zatara | Zatanna | Health | 10% | 6,000 |
Gallery
[
]
Trivia
[
]