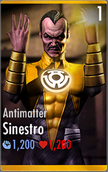 Fear Me: When Sinestro performs "Death from Above", 2 BARS of POWER are drained from the opponent and the opponent is forced to tag out.
One of the most devastating characters to ever hit Injustice Mobile, Antimatter Sinestro rains "Death from Above" in rapid succession with the League of Assassins Set to flatten all but the most prepared of foes.
He can be unlocked through his Challenge Mode. Otherwise, he can be randomly obtained from the Challenge Booster Pack, the Special Challenge Booster Packs, or as a guaranteed pull from the Anti-Matter Sinestro Pack. However, obtaining him from a pack will not unlock him for direct promotions.
Upon using his SP1, "Death from Above", Sinestro's current opponent is forced to tag out and is replaced with a random teammate. This happens even if his opponent is snared, protected by Invulnerability or if the special misses (such as using it too quickly while the opponent is just tagging in, or while they are knocked down). Two bars of power are also drained. However, if the special is negated by Superman/Injustice 2's passive, or dodged by Batman/Dawn of Justice or Rebirth Wally West's passives, no effect will take place.
Use the League of Assassins Set's effects to force tag out on first special so the properties can activate when they are forced out, therefore dealing high damage and gaining up to 25% power. While the set is practically mandatory on him, it is possible to only go with 2 pieces, especially if he is loaded with plenty of crit chance/damage augments, which makes his s1 do far more damage and the 3-piece damage effect becomes less important. Normally, his s1 does 20%-40% of his damage stat but with fully upgraded Knives, Hood, special and augments, it brings it up to an average of about 158.4% (plus the same amount of damage divided between two tagged-out opponents) compared to full set's 55%. LexCorp Gauntlets V2's crit chance on s1, on average, would bring it to 221.8% theoretically (+63.4% damage to a single target alone), but can be hindered by crit immunity.
The Knives have very powerful damage boosts and area on special 1 as well as the highest power generation in the game, so it should always be taken. Blade and Hood are both fairly poorly optimized with him. Blade's DOT is largely useless when his opponents are forced to tag out every time they are hit, although when dueling the last opponent in Online Battles or higher level Survivor it could be useful (coupled with The Ibistick for more % shred, power generation, and special damage). Basic attacks shouldn't be prioritized with him as his combos are weak and fairly awkward to use. Paradoxically, the Hood also gains effectiveness when there is more crit chance from augments due to his crit boost. While the special disable is usually irrelevant similar to the DOT (and due to the power drain), it is often a great defense against the commonly used LexCorp Set's 2-piece power drain reverse effect.
If you decide to forgo one piece of the set, there are several options for the third gear piece. LexCorp Gauntlets V2 gives him large crit chance on s1, a regeneration effect, and stun on tag in (albeit not particularly useful). Venom Injection System is basic with bonus health and heal on s1, but can be quite useful in Survivor, especially after regeneration is disabled. Ra's Al Ghul's Scimitar can give him an early start with 1 bar of power, especially since his basics are hard to use.
His second special can deal three knock-out blows, meaning it's good when the whole enemy team is on low health but not actually knocked out yet.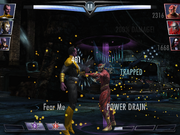 Interactions
Edit
Please note that battles are highly situational: this section only mentions cards that have mechanics that, for any reason, are particularly effective with/against, or particularly ineffective against Sinestro. Having a card that "counters" Sinestro does not mean it is always a good choice.
Good With
Edit
Good Against
Edit
Countered By
Edit
Abilities
Edit
Here are Sinestro's abilities.
| Ability | Classification | Description | Usage |
| --- | --- | --- | --- |
| Death from Above | First Special | In a show of extreme might, Sinestro calls down a meteor to flatten his opponent. | Rapid tap |
| The Meaning of Fear | Second Special | Sinestro toys with his victim, slicing them with a series of sinister axe construct strikes. | Quick Tap, Rapid Swipe |
| Sinestro's Might | Super Move | Sinestro demonstrates the depths of his limitless power on his unfortunate victim. UNBLOCKABLE. | Tap |
Support Cards and Gear
Edit
Here are Sinestro's support cards and gear.
Card
Classification
Description
Cost
Sinestro Corps
Health
10% HEALTH BOOST.
3,000
Yellow Power Ring
Damage
10% DAMAGE BOOST.
4,000
Yellow Power Battery
Energy
10% ENERGY REGENERATION.
5,000
Yellow Power Ring (Supercharged Yellow Power Ring)
Gear

8% - 18% DAMAGE BOOST to Special 2

[Sinestro] 20% - 30% LIFEDRAIN chance on Special 2

[EVOLVED] DISABLE enemy Specials: 15% - 25% chance on Special 1

25,000 - 1,000,000 (upgrading)
These stats are the final damage and health levels at level 50, per Elite rank, with ALL support cards, and without any augmentations. With the 2.13 update, Elite 8, 9, and 10 have been added. The Elite 10 damage and health levels are for level 60 characters.
| Tier | Damage | Health |
| --- | --- | --- |
| Normal | 9,396 | 17,496 |
| Elite I | 14,094 | 26,244 |
| Elite II | 18,792 | 34,992 |
| Elite III | 28,188 | 52,488 |
| Elite IV | 32,886 | 62,986 |
| Elite V | 37,584 | 69,984 |
| Elite VI | 42,282 | 78,732 |
| Elite VII | 46,980 | 87,480 |
| Elite VIII | 51,678 | 96,228 |
| Elite IX | 56,376 | 104,976 |
| Elite X | 66,339 | 134,784 |