Packs, also known as Booster Packs, can be bought with Power Credits or real money in the Store OR can be obtained if the player completes a certain amount of Battles for a character's Challenge. They can contain either character cards, with or without support cards, along with a possible chance for Upgrades, and/or Gear cards. For some packs, their contents may be fixed or random; on the other hand, some can be permanent or temporary (i.e. does not always appear in the store).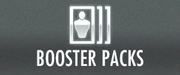 Obtaining a character who first needs to be unlocked in Challenge Mode or a WBID account (or through the Store) can be promoted DIRECTLY with Power Credits. Otherwise, if obtained from most Packs, they cannot be promoted directly.
Since 2.20, packs with random contents have little "i" symbols on top right when selected, which shows the chances of obtaining certain cards in compliance with Apple's new app store policy.
Permanent packs
Edit
(Note: The ones in italics are 25% off. The ones in bold are 50% off. The ones in bold/italics have 50% more value. The ones with a (*) after them have 25% more value.)
Booster Packs
Edit
Power Credit Packs
Edit
Harley's Bag of Goodies
Catwoman's Diamond Stash
Lex Luthor's Lexcorp Stock
Deathstroke's Blood Money
Bruce Wayne's Trust Fund
Superman's Regime Treasury
Temporary Packs
Edit
The pack(s) currently in the store are bolded.
Early Access Packs
Edit
Early Access Packs are generally released slightly prior to the character's official release, and retracted around the same time their Challenge Mode expires. The pack(s) currently in the store are bolded.
Previously, the card's stats on the pack's interface are modified by support cards. This has since been removed and now they show their base stats.
Most of the non-random temporary packs are around 25% cheaper than the characters are separately. A major exception is the Arkham Asylum Pack, which only saves about 3.6% possibly due to the difficulty of otherwise obtaining Harley Quinn/Arkham.