Air Support: Hawkgirl and her teammates can TAG IN and OUT more quickly (4 seconds faster cooldown). When Hawkgirl switches out or in the enemy is snared and cannot switch for 5 seconds. Basic Attacks do 100% more basic damage when opponent is snared.
Hawkgirl can be unlocked through her challenge. Afterwards, she can be randomly obtained from Challenge Booster Packs or as a guaranteed card from the Tag Team Pack, but neither will unlock her for direct Promotions.
| Basic combo | Damage pattern (% of damage stat) | Total (including Combo Ender) |
| --- | --- | --- |
| Light (Combo Ender) | 2% - 2% - 2% - (3% - 3%) | 12% |
| Heavy | 4% - 4% - 4% | 12% |
Hawkgirl Prime is a useful character for getting the characters you need tagged in or out right away. In case of emergencies you can tag in a fresh character to take the hit, while land some in the process to devastate your opponent. For example, Luchador Bane upon tag in have a chance to stun and gain 25% more damage for 4 seconds, and Batgirl Cassandra Cain can reduce opponent's health by 25% upon tag in, which can deal heavy damage on characters with high health. After Hawkgirl's upgrade, she now has the ability to also Snare opponents upon tag in and tag out, making them unable to tag out for 5 seconds and dealing an additional 100% basic attack damage while opponent is snared. Common strategies are to use a DOT character then tag her in.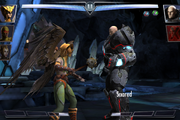 Interactions
Edit
Please note that battles are highly situational: this section only mentions cards that have mechanics that, for any reason, are particularly effective with/against, or particularly ineffective against Hawkgirl. Having a card that "counters" Hawkgirl does not mean it is always a good choice.
Good With
Edit
Good Against
Edit
Ares: Her snare is very useful in keeping Ares from tagging out and wear him down without giving him a chance to use his powerful special 2. Even if he does manage to use it, the reduced tag cooldown also helps evading the block disable.
Bane/Luchador: Her snare can also wear down Bane due to his low health. Plus, by preventing him from tagging out Bane is unable to gain his damage bonus upon tag-in, rendering him much weaker.
Any character who deals significant DOT, as the reduced tag cool-down will help evade it.
Countered By
Edit
Abilities
Edit
Here are Hawkgirl's abilities.
| Ability | Classification | Description | Usage |
| --- | --- | --- | --- |
| Mace Charge | First Special | Hawkgirl lunges forward with her mace. CHANCE TO STUN. | Rapid Swipe |
| Bloody War | Second Special | Hawkgirl assaults her opponent with powerful weapon strikes. | Rapid tap |
| The Power of Nth | Super Move | High above the battlefield, Hawkgirl mauls her helpless opponent. UNBLOCKABLE. | Tap |
Support Cards and Gear
Edit
Here are Hawkgirl's support cards and gear.
Card
Classification
Description
Cost
Nth Metal Armor
Health
10% HEALTH BOOST.
3,000
Morningstar
Damage
10% BASIC ATTACK BOOST
4,000
Belt of Nth Metal
Energy
10% ENERGY REGENERATION.
5,000
Battle Mace (Nth Metal Morningstar)
Gear

50% - 70% DAMAGE BOOST to basic attacks

[Hawkgirl] 100% AREA EFFECT: opponent's team takes 15% - 25% damage from Special 2

[EVOLVED] 15% - 25% STUN chance on Special 1

25,000 - 1,000,000 (upgrading)
These stats are the final damage and health levels at level 50, per Elite rank, with ALL support cards, and without any augmentations. With the 2.13 update, Elite 8, 9, and 10 have been added. The Elite 10 damage and health levels are for level 60 characters.
| Tier | Damage | Health |
| --- | --- | --- |
| Normal | 7,615 | 13,581 |
| Elite I | 10,575 | 20,160 |
| Elite II | 14,094 | 27,693 |
| Elite III | 21,150 | 41,553 |
| Elite IV | 24,663 | 48,200 |
| Elite V | 28,188 | 55,808 |
| Elite VI | 31,716 | 60,486 |
| Elite VII | 35,325 | 69,255 |
| Elite VIII | ? | ? |
| Elite IX | ? | ? |
| Elite X | ? | ? |