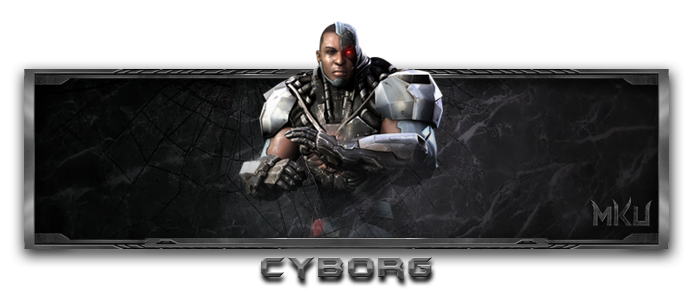 Cyborg is a character in Injustice: Gods Among Us Mobile. Cyborg is the ultimate sidekick, having passive abilities that affect him when he is tagged out, allowing him to have a second chance at the fight.
All versions of Cyborg are known to have an unusual heavy attack combo: the first two hits are melee, but the third and last hit is ranged. By spamming his heavy combo (swipe) rapidly, it is possible for the missile to hit your opponent again when they were getting up after your previous combo. This could be done again and again until they tag out, use a special, or reach the edge of the arena (which takes about 13 shots). A Super Move will transport you back to the middle of the arena.
For Cyborg's full console character biography, click here.
Characters
[
]
Trivia
[
]
Cyborg is the only character in Injustice with a passive that only affects him when he is tagged out.
Teen Titans and Prime Cyborg are also the only characters who can heal themselves indefinitely without using specials.
Cyborg's real name is Victor Stone, and he was a star athlete during high school playing on the football team.
He is one of the only characters to not have a Challenge or Online Mode character (alongside Lex Luthor, Nightwing, and Shazam)
Included Cards
[
]